One thing God has spoken, two things I have heard: that you, oh Lord, are strong and that you, oh Lord, are loving.
Psalm 62:11-12
T
alk about subtext! Whatever came out of God's mouth, the psalmist heard more than just the words.
And yet "reading between the lines" often gets us in trouble. Only when we've really gotten to know someone do we master the fine art of hearing what he's really saying.
I find it reassuring that God included this verse in his eternal Word.
We can learn from David, a man after God's own heart. He knew his God and conversed with him. Out of that long, deep relationship we see glimpses of the nature of our Lord and the way he deals not only with nations but with individuals as well.
God speaks who he is in one breath but, like David, we hear manifold truth.
How?
Like any acquired skill, it's learned through practice: overlaying the truth of God's written word on the circumstances of our lives. But first we have to learn the Scriptures.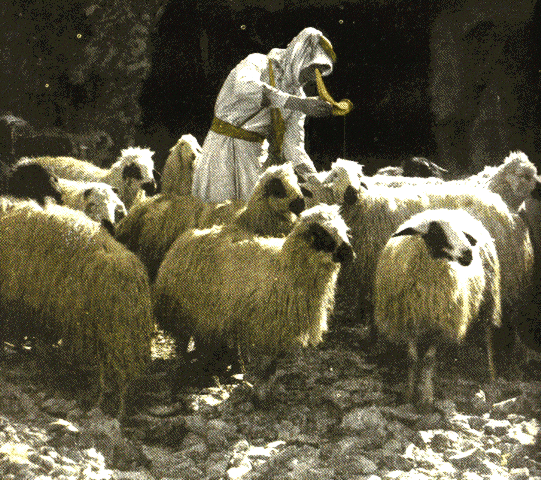 Samuel anointed David as a youngster, and the Spirit came on him from that day forward. While David's brothers went off to fight for King Saul, no doubt Samuel instructed the boy, teaching him—as God had commanded—to write his own copy of the books of Moses. By the time David was old enough to deliver supplies to the army camp, he had learned enough about the God of Israel to be outraged by the giant Goliath's insulting taunts. Thus began David's military career.
At the time David penned this psalm for the musicians, he had not only studied the history of God's mighty deeds for Israel, but he had lived them as well.
David was drawn to the character, the heart, of this God who was concerned for the wellbeing of his people. After all, they were King David's people too.
Don't forget, David learned about the Lord while he was still just a shepherd. He would have associated what he learned with what he knew of life—caring for his father's flocks. Not his own flocks, except by extension. This metaphor is explicit in Psalm 23 but it informs all of David's ideas of his kingship—as king, he was Israel's "under-shepherd." And because he was a shepherd, he understood that mighty deeds on behalf of those you look after are never for the sake of glory alone but because the sheep genuinely need help and protection.
But David saw more than power in God's dealings with Israel. The Lord truly loved his people. To love goes beyond simply meeting needs. Apply here the New Testament words: Love is
patient and kind; it doesn't envy or boast; it's not arrogant or rude. It doesn't insist on its own way nor is it irritable or resentful. Love covers over to protect the beloved. It trusts and confides in the beloved. It always expects the best. And it is faithful no matter what. It never runs out.
That's what David saw in the heart of God for his people.
In linking together
the Lord's strength and love, David understood that Almighty El Shaddai works to bring about the good and safe and happy and glorious state of his people.
Amazing, when we consider how difficult it is for many Christians to appreciate the God of the Old Testament.
We are God's chosen people, called according to his new covenant in Christ. God has not changed. He remains mighty on our behalf and loving toward us.
May he grant us the ability to see the truth of his Word in the circumstances of our lives.